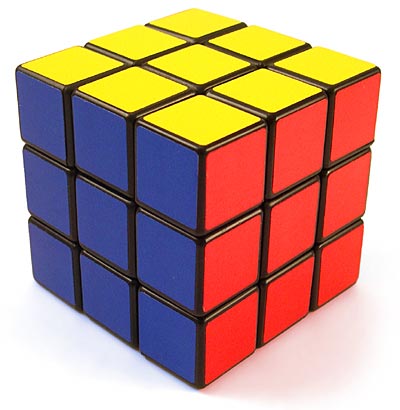 You might not be able to solve Rubik's cube, but now you may be able to make one.
The multicolored puzzle that's kept small and big hands busy since the 1970s lost the final round in a fight to hold on to a European Union trademark protection for its shape.
EU trademark law seeks to prevent a company getting "a monopoly on technical solutions or functional characteristics of a product," the EU Court of Justice ruled in Luxembourg on Thursday.
The legal battle in Europe has seen almost as many twists and turns as the iconic cube. A lower European court two years ago backed the puzzle's makers by deciding that the shape's distinctive surface with black lines and the grid structure on each surface justified the right to a trademark valid across the 28-nation EU.
An adviser to the higher court in a non-binding opinion in May disagreed, saying EU judges should back the argument by German toy maker Simba Toys GmbH that the protection isn't justified because the cube's shape performs a purely technical function.
The judgment "sets a damaging precedent for companies wishing to innovate and create strong brands and distinctive marks within the EU," David Kremer, president at Rubik's Brand Ltd., said in an e-mailed statement.
The Rubik brand still has other rights, including other trademarks and copyright, to rely on "which will continue to ensure its exclusivity," Kremer said, but he said the brand owner is "baffled that the court finds functionality or a technical solution implicit in the trademark."
The ruling isn't really a surprise, said Geert Glas, a lawyer at Allen & Overy LLP in Brussels, who specializes in intellectual property cases.
The EU court "has become very wary of trademarks which it fears could become competitive obstacles for others," he said.
The EU's IP office, which will now have to weigh adopting a new decision will be bound by the latest ruling.
"I'm afraid it's game over for the owners of the Rubik's Cube," he said.
Apart from the effects this will have for the Rubik's cube, the toy and games industry more generally will likely "be considering their portfolio of 3D trade mark registrations to assess how viable those registrations are," said Alexandra Brodie, a lawyer at Gowling WLG in London.